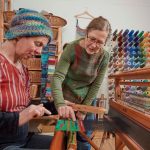 Threading a ready-made warp

Welcoming the summer sun.

Stretchy yarns make ruffles

Useful technique, so many possibilities!

more ruffles

Margaret on our stand

SAORImôr display

Saori samples

Hollyhock petals

Chopping roots

Woad vat

Treborth Botanical Gardens provide the most fabulous venue.

Showing the difference between the 2 ply and the navaho ply.

The results of my dippings

Uncovering the site of a bakery

Renovating the new site for "Storiel"

Continuation of the path from the Bishop's Palace to the Cathedral

The cobbles revealed from the front of the Bishop's Palace to the Cathedral

Re-carded the fibre to open it out more

Two spun and plied hanks

Making friends.